Welcome to West Wales Riding Club!
West Wales Riding Club is a BRC affiliated club in Area 21 for riders over 18 years of age. It is based in Pembrokeshire and has been in existence for some fifty years. We hold Dressage and Show Jumping competitions throughout the winter as well as running weekly training rallies all year. Our members have been successful at National Championships. In 2016 our Novice Show Jumpers won the KBIS Winter Show Jumping National Championships.
CONGRATULATIONS to Katie Mathias with LLwynfron Rachel for achieving second place at the NAF Five Star Horse Trials Championships held at Swalcliffe on the 2nd and 3rd August 2019. Remarkably she also won the sash for being the closest to the Optimum Time despite losing one stirrup half way round the Cross Country course. Thanks also to Catrin Owen- Weatherall for the use of her horse and supporting Katie at the Championships.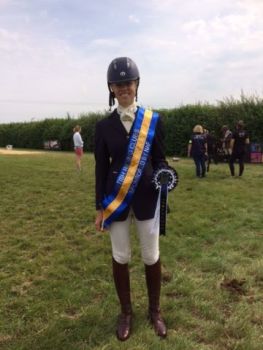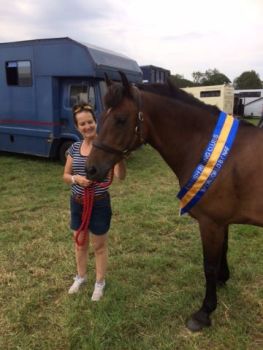 A new link has been added to the Links Page for a web site called 'TackTrunks'. This is an American company that sells many interesting horsey items and well worth a visit. It does export to countries outside the USA if you see something you want to buy.
A link has been added to the Links Page for a web site called 'matchyhorsey'. This gives guidance on how to present horses in Showing Classes.
PLEASE GO TO THE EVENTS PAGE FOR DETAILS OF WWRC COMPETITIONS AND AREA 21 QUALIFIERS AND TIMES FOR DRESSAGE COMPETITIONS.
TRAINING RALLIES
Training Rallies will continue throughout 2020 on Monday evenings at Moor Farm. Open to WWRC Members only. A download giving details is available here .
CLUB MEMBERSHIP
At BRC's request the the Club's 'year' now runs from 1st January starting in 2020. Form available here for download. Payment can now be made by BACS. For security reasons banking details are not shown on the form. Please contact the Treasurer if you wish to use this method of payment (details on form).
PRIVACY POLICY
It is WWRC policy to restrict its use of the personal information members put on the Membership Application/Renewal Form to keep members informed of Competitions, Training, etc run by the Club and by Area 21. This information is also sent to BRC HQ so that they can use it for Insurance purposes, to keep members informed of BRC run activities and to send them the 'Rider' magazine. WWRC does not provide any personal information about its members to anyone else . For details of the BRC Privacy Policy please visit the BRC Website and open the 'Privacy' section. Further details about WWRC's Privacy Policy can be found here.


CONGRATULATIONS: to the Novice Show Jumping Team consisting of Kate Gillam (Lilly Langtree), Katie Mathias (Penty Parc Stormy), Lucy Jowett (Penty Parc Isidro) and Gemma Butcher (Denmor Roallan (Robo)) for winning the KBIS Senior Novice Show Jumping Winter National Championships 2016 held on Saturday 9th April 2016 at Keysoe, Bedford.
(It was Area 21's Day as Towy Valley's Novice Dressage Team came first in the KBIS Senior Novice Dressage Winter Championionships on the same day!)
Congratulations to our dressage and show jumping teams who went up to Hartpury to represent the club at the national champs. The teams consisted of Jill Ridge, Catrin Owen, Kate Gillam and Louise Wheeler with Catrin's husband acting as Chef D'Equipe (despite his allergy to horses!). The Show Jumping team came a very commendable 9th overall and Catrin Owen came 10th individually in the dressage. Well done to all!p