Welcome to West Wales Riding Club!
West Wales Riding Club is a BRC affiliated club in Area 21 for riders over 18 years of age. It is based in Pembrokeshire and has been in existence for some fifty years. We hold Dressage and Show Jumping competitions throughout the winter as well as running weekly training rallies all year. Our members have been successful at National Championships. In 2016 our Novice Show Jumpers won the KBIS Winter Show Jumping National Championships (see below for photo).
The membership year runs from 1st October each year -form available for download from the download page or further down this page.
A note of thanks to Alma James, our President and her sons who have held our Annual Show on her Farm at Clarbeston Road for several years. This year, they are taking a well-earned rest. Alma also took part in organising the Show when it was held at Kilbarth, nr Haverforwest. She has set an example to all our members by giving of her time and effort for the Club rather than simply expecting it to work for her!
A) AREA 21 WINTER QUALIFIERS
1) SHOW JUMPING Beacons Equestrian Centre on the 14th October 2017. There are two Schedules for this competition. The 80cm 'Novice' Team Qualifier. Schedule available here. Also the 90cm (and higher) 'Intermediate' Team and Individual Qualifiers. Schedule available here.
2) INTERMEDIATE WINTER DRESSAGE Pibwrlwyd Campus, Carmarthen on Sunday 22nd October 2017. Schedule available for download here.
3) NOVICE WINTER DRESSAGE Lluest, Aberystwyth on Sunday 5th November 2017
B) WWRC WORKING HUNTER AND SHOWING SHOW .
There will be an Open Working Hunter and Showing Show at Moor Farm on Sunday 8th October 2017. This will be open so Seniors (over 18 years only) members or non-members but only paid-up members will qualify for the Championship class. It is in place of our Annual Show. A schedule is pending.,
C) WWRC WINTER SERIES COMPETITIONS 2017-2018
Dates have been booked with Moor Farm for our Winter Series of Competitions. So far competitions have been assigned to two of these dates:-
1) Sunday 22nd October 2017 - Open Unaffiliated Show Jumping - Schedule available here
2) Sunday 29th October 2017 -Open Unaffiliated Dressage - Schedule available here

RALLIES
A poster giving information on the Training Rallies at Moor Farm and Hundleton is available here. This also gives details of Competitions held last winter. Althought the poster refers to the period October 16 to March 17, the rallies are continuing through the summer subject to sufficient numbers.
OFFICIAL STEWARDS
Area 21 (of which WWRC is a part) is in urgent need of more Official Stewards to attend our Area Qualifiers, clarifying rules, help the organisers and deal with any problems. At present our Area Rep Jonathan Pett is our only OS. He is likely to be unavailable for some time next year . Guidance on the role is available here. Training will be held over a weekend in February 2017.
If you are interested please use our contact page and Jonathan's contact number will be sent to you.


CONGRATULATIONS: to the Novice Show Jumping Team consisting of Kate Gillam (Lilly Langtree), Katie Mathias (Penty Parc Stormy), Lucy Jowett (Penty Parc Isidro) and Gemma Butcher (Denmor Roallan (Robo)) for winning the KBIS Senior Novice Show Jumping Winter National Championships 2016 held on Saturday 9th April 2016 at Keysoe, Bedford.
(It was Area 21's Day as Towy Valley's Novice Dressage Team came first in the KBIS Senior Novice Dressage Winter Championionships on the same day!)
AREA 21 HORSE TRIALS QUALIFIER AT LLANYMYNECH . 25TH JUNE 2016
Three WWRC members travelled to the Area 21 Horse Trials held at Llanymynech, Powys jointly with the Area 20m Qualifier. Lucy and Alex Jowett competed in the 80cm Class both had an enjoyable time and Lucy won riding Alma James' Lamboro Sparky. Alex rode Martel Merry. Katie Mathias rode Penty Parc Stormy in the 100+ Class and won that.
STRANGLES OUTBREAK - Due to concerns about Strangles occuring in the West Wales Area an Information Booklet is available for download here
CLUB MEMBERSHIP
The Club's 'year' runs from 1st October each year. Please send your Renewal Form and fee to our Club Secretary asap. This is particularly important if you wish to compete in one of the Area 21 Competitions as only fully paid up members whose names have been notified to BRC HQ can compete in them. A form for the year October 1st 2017 to 30th September 2018 is available for download here.
Endurance GB is offering a Team Endurance Event to affiliated British Riding Clubs on a national scale. Some of the competitions will be in Wales. The competition is only open to Riding Club members and involves teams of between three and six riders. Rides are between 20 and 25 miles in length. For further information go to the Endurance GB web site at: www.rcteamevent.endurancegb.co.uk.
Combined Training Photos - check out Anna's website www.ar-equinephotography.co.uk
Congratulations to our dressage and show jumping teams who went up to Hartpury to represent the club at the national champs. The teams consisted of Jill Ridge, Catrin Owen, Kate Gillam and Louise Wheeler with Catrin's husband acting as Chef D'Equipe (despite his allergy to horses!). The Show Jumping team came a very commendable 9th overall and Catrin Owen came 10th individually in the dressage. Well done to all!p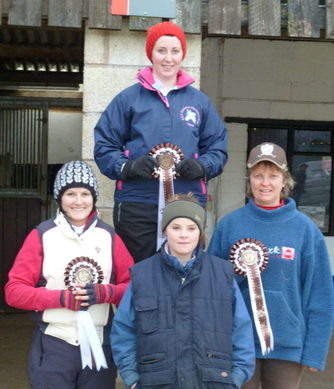 Photos from the Area Qualifiers are available from Storm Development at the following links:
http://www.storm-development.co.uk/equine-events/moor-farm/dressage
http://www.storm-development.co.uk/equine-events/moor-farm/show-jumping/march-3rd-area-21

A message from BHS:
You may have seen the recent news stories concerning an outbreak of Equine Herpes Virus (EHV 1) in Gloucestershire. Two horses have been shown to have the neurological form of the disease and one the respiratory form. It appears that others are also showing signs but have yet to be definitively diagnosed.
Although not a legally notifiable condition, EHV 1 is contagious and does have the potential to be quite a serious disease. Indeed, the neurological form can lead to paralysis. In most cases, EHV 1 is spread via respiratory transmission so wherever horses are brought together from different yards there is the possibility for the disease to spread if one of the horses present is affected. For this reason the Heythrop have very responsibly suspended hunting for a week.It is important to be aware that the risk of your horse contracting EHV 1 is very small and there is certainly no need to panic. However, as with any disease, spotting it early is the best thing for your horse so the BHS felt it would be useful to provide a short refresher on EHV 1 and its signs. For most people this will just be precautionary information but the recommendation is that anyone who has hunted with the Heythrop since 24 January should put their horse into quarantine for a minimum of 10 days. The same should apply for all horses on the same yard, even if they have not been hunting.Although aimed at a different disease (Strangles) our STEPS leaflet provides lots of useful information about quarantining and isolating horses.
Many of the clinical signs of EHV 1 can be confused with other diseases. A high temperature is a key indicator and it is essential to monitor the temperature of 'at risk' horses. Affected horses will tend to be disinterested and off their food, as well as showing typical respiratory disease signs such as coughing and a nasal discharge. If a horse is affected by the neurological form of the disease you may see some incoordination or just general 'wobbliness'.
Should you have any concerns at all that your horse may be affected please contact your vet immediately.
The BHS is part of the group that produces the HBLB Codes of Practice. There is much helpful information about EHV in the Codes which you can access here.
If anyone has any further concerns about EHV or would like more information, please contact our BHS Welfare Team on 02476 840517 or email welfare@bhs.org.uk

We have had a message from Vicki White, a sports massage therapist who has recently moved to the area. She is offering sports massage services to riders and has found that riders need to be educated about injury prevention to get the best out of their training. She has discovered that riders tend to suffer from incredibly tight lower backs, gluts and inner thighs.
Just a little bit about Vicki - "I've been a Sports Therapist for over 6 years and run successful clinics in
Cardiff
&
Swansea
before moving to Pembs a few months ago. I also work Sport Wales,
Swansea
City
FC & the Welsh Ladies Senior Football Squad, plus many more. Please take a look at my website

www.vickisportsmassage.co.uk

which has more information."
The 'tight lower back' sounds extremely familiar so this might be something useful for you riders out there to have a look at so check out her website!
Please see the below message from Horse Watch!
Hope all is well in the rural community and that you enjoyed your Christmas? We have been experiencing a few rural thefts lately, mainly opportunist with items taken from farm yards that were highly visible in some instances, so can I take this opportunity to request that you lock things up and keep things out of view. Most of you have your regular scrap collectors that you deal with, but can I please remind you that the laws have now changed regarding transportation and transaction of scrap, we are keeping regular checks of our scrap dealers and stop-checking vehicles regularly. I would urge you to take number plates, dates and times and forward on to us please so we can monitor any illegal or suspicious incidents.
We are also experiencing problems again with loose horses in our county. These horses tend to be coloured and are owned by the gypsy fraternity, but are generally kept on farmers land with or without consent. I would like to bring to your attention the below as farm owners are deemed liable if they escape and cause criminal damage. We would encourage you to think twice before allowing the horses there in the first place as once placed on your land it then becomes very difficult to get paid and also have them removed. Please read the below message which has been sent from SWP from our partners in Community Safety:
"It has been identified that a number of persons who own and breed horses will approach farmers with a view to rent land to lodge their horses. An agreement will be made with regards to rental costs. These persons will pay an initial fee however will not pay over any more money. Once the horses are on the land the onus is then on the farmer to look after the horses thereby incurring huge costs.
The original owner of the horses will then attend the farm after a number of months with a view to recovering the horses without paying the outstanding fees. They will use intimidation and threats to recover the horses.
Farmers should therefore be wary of the tactics being employed and should only consider renting land to persons they know or have been vouched for."
In addition to the above I would ask that you keep a watchful eye on these coloured horses that are usually seen in very large herds in fields around our county. If you have any concerns for their welfare, especially at this time of year when grass is in short supply and the fields are so very wet and muddy, please contact us direct and we can alert the RSPCA as we have a good working relationship with them and you can remain anonymous! Either email or ring via the 101 number to bring to my attention, also inform all of your "equine" friends and family of the above messages and spread the word around.
Haverfordwest Rural NPT